The Archives Of Hattusas -- By: G. Herbert Livingston
Journal: Bible and Spade (Second Run)
Volume: BSPADE 08:1 (Winter 1995)
Article: The Archives Of Hattusas
Author: G. Herbert Livingston
---
BSP 8:1 (Winter 1995) p. 10
The Archives Of Hattusas

G. Herbert Livingston is Emeritus Professor of Old Testament at Asbury Theological Seminary, Wilmore KY, and a regular contributor to Bible and Spade.
Introduction
The modern Turkish village of Boğhazkoöy (recently renamed Boğazkale) is now located on the site of the capital of the ancient empire of the Hittite people. The location of this historic place is 200 km (125 mi) by road east of Ankara, the modern capital of Turkey. The ancient capital was located on a bend of the Halys River that cuts through a mountainous region. A mountain stream also joins the Halys River, forming a high ridge. The ancient city walls enclosed this ridge with the main temple and palace at the highest point.
This site was first settled in the Early Bronze Age (3000–2100 BC) as attested by artifacts found in some areas, but no inscriptions. The earliest inscriptions found refer to the settlement as Hattus. Indo-European people took over the central part of Turkey, also called Anatolia, sometime before 1850 BC. These people are known as the Hittites, whereas scholars refer to the earlier people as Hattians. The Hittites added an "as" to the end of the name of their capital. They slowly built an empire that dominated central Anatolia, and stretched east into the upper Euphrates valley and south to Syria. During the New Kingdom (Empire) period, covering about two centuries (1400–1190 BC), the Hittites reached the height of their power.
Early Discoveries
The French explorer Charles Texier was the first European to view the ruins of Hattusas in 1834. Other Europeans
BSP 8:1 (Winter 1995) p. 11
stopped by while traveling in the Ottoman Empire, but it was another Frenchman, Ernest Chantre who first thrust a spade into the ground to bring to light more of the ruins. This happened in 1892–93, during which time he and his crew found the first clay tablets inscribed with a cuneiform script. The language was a mystery, but the similarity with the Arzara letters found in Egypt at Tel el-Amarna was soon noticed by scholars. This correlation motivated Hugo Winkler of Germany and Theodore Makridi of Turkey to begin new excavations in 1906. In that season they found 2,500 portions of tablets. They returned in 1907, 1911, and 1912. In 1907 another German archaeologist, Otto Puchstein, concentrated his excavations on the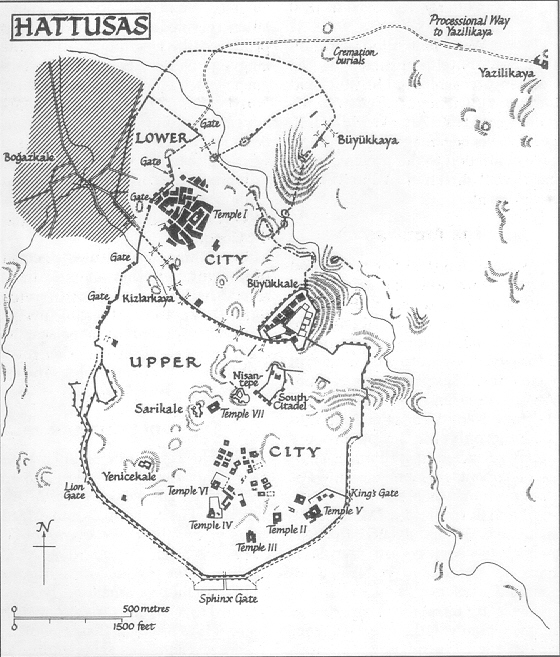 BSP 8:1 (Winter 1995) p. 12
fortifications and a number of temples. Very little of the resi...

visitor : : uid: ()