Khirbet Nisya 2000 -- By: David P. Livingston
Journal: Bible and Spade (Second Run)
Volume: BSPADE 14:1 (Winter 2001)
Article: Khirbet Nisya 2000
Author: David P. Livingston
---
BSpade 14:1 (Winter 2001) p. 4
Khirbet Nisya 2000
[2000 was the Associates for Biblical Research's 19th dig season at Khirbet Nisya, under the direction of ABR founder Dr. David Livingston. In this article, Dr. Livingston summarizes the result of his 2000 excavation. With his research at Kh. Nisya winding down, this dig included only a small team working on specific projects.]
Our 2000 excavation at Khirbet Nisya involved rest probes in a number of specific areas on the site. Digging in July and August was very hot, one day reaching 106° F! News reports indicated this was the honest day recorded in Jerusalem over the past 112 years. This year, with just a small team, we excavated two new areas checking possible evidence of socket stones. Unfortunately, we found nothing of significance.
The Underground Structure
Baruch Brandl, of the Israeli Antiquitics Authority (IAA), visited the site and looked at the underground structure we had previously discovered and excavated. He suggested the area outside the entrance should be excavated completely to bedrock. Whether a dwelling or tomb (or both—during different periods), we spent three days clearing in front (south) of the door carved into the vertical face of bedrock. The bedrock outside the doorway had also been carved, with two steps leading down to the actual doorway.
BSpade 14:1 (Winter 2001) p. 5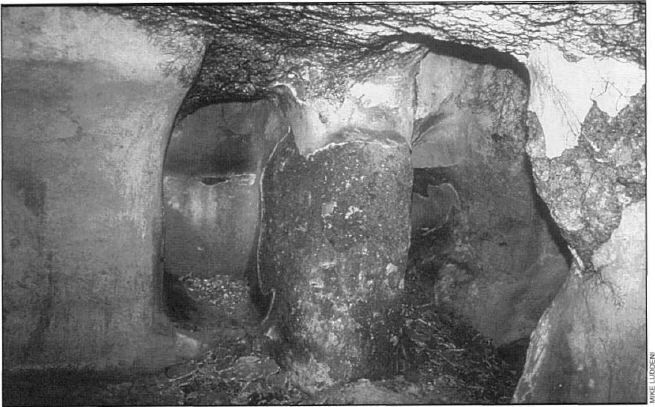 BSpade 14:1 (Winter 2001) p. 6