Jericho: Does the Evidence Disprove or Prove the Bible? -- By: Scott Ashley
Journal: Bible and Spade (Second Run)
Volume: BSPADE 16:2 (Spring 2003)
Article: Jericho: Does the Evidence Disprove or Prove the Bible?
Author: Scott Ashley
---
BSpade 16:2 (Spring 2003) p. 54
Jericho:
Does the Evidence Disprove or Prove the Bible?
and
The ancient city of Jericho lay about 6 mi (10 km) from the Jordan River and about 7.5 mi (12 km) northwest of the Dead Sea, 670 ft (204 m) below sea level and about 3,000 ft (914 m) below Jerusalem, 14 mi (22 km) away. A large gushing spring and the fertile plain surrounding the city earned it the distinction "the city of palm trees" (Dt 34:3; 2 Chr 28:15). A major east-west road ran next to the city, intersecting with the Jordan at a ford nearby, making Jericho a strategic crossroads.
The city had already been occupied for many centuries before the Israelites arrived. It had an inner wall and an outer fortified wall, several feet thick, enclosing about 9 acres of land. To the Israelites entering the Promised Land, Jericho presented a major obstacle.
According to the Bible, Joshua and the Israelites crossed the Jordan in the springtime and then celebrated the Passover on the plains outside Jericho, eating some of the fresh grain of the land since it was harvest time (Jos 3:15–17; 5:10–12). For seven days the Israelites marched around the city, accompanied by priests blowing trumpets. On the seventh day, after their seventh circuit around the city, the priests blew their trumpets, the people shouted, and the walls of the city, as the old song goes, "came a-tumblin' down."
Then the people went up into the city, every man straight before him, and they took the city. And they utterly destroyed all that was in the city...with the edge of the sword" (Joshua 6:20–21, NKJV).
BSpade 16:2 (Spring 2003) p. 55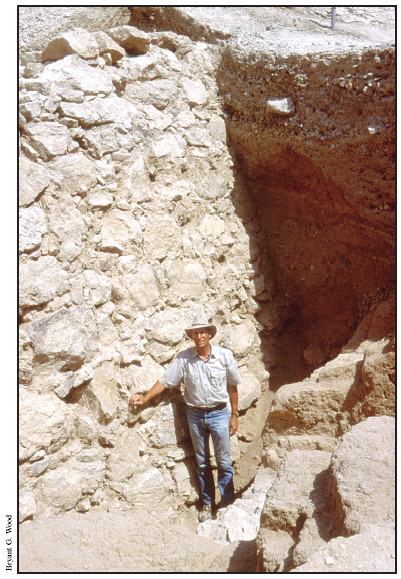 visitor : : uid: ()