The Place Of Battles -- By: David G. Hansen
Journal: Bible and Spade (Second Run)
Volume: BSPADE 23:2 (Spring 2010)
Article: The Place Of Battles
Author: David G. Hansen
---
BSpade 23:2 (Spring 2010) p. 32
The Place Of Battles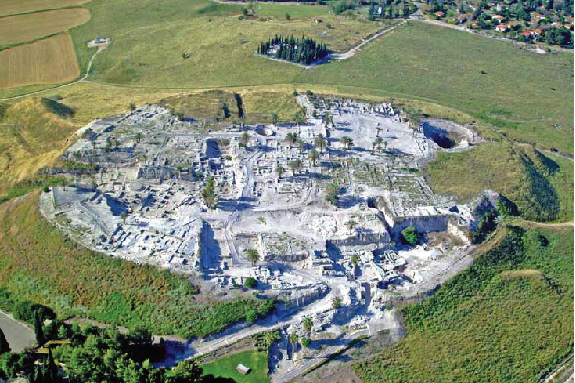 James C. Martin/Bible World Seminars
Tell el-Mutsellim, Megiddo. An aerial photo of the 35-acre tell looking south. In the lower center right of the 19-acre summit is the gate system. The shaft to the water tunnel is visible in the upper right and exposed on the left side of the tell is the archaeological cut exposing a Early Bronze Age cultic center with a round altar.
Although Megiddo has been extensively chronicled in extra-biblical sources, it is only mentioned 12 times in the OT1 and once, indirectly, as Armageddon in the NT (Rv 16:16). Most Christians know the book of Revelation prophesies an end-times battle that will be fought at a place called Armageddon (Rv 16:16), and many know that Armageddon is, in fact, a corruption of the Greek word,῾Αρμαγεδών (Harmagedori) or "the hill of Megiddo." A 35-acre (14 hectare) mound, 200 ft (60 m) high, in northwest Israel called Tell el-Mutesellim is believed to be the site of Megiddo.
BSpade 23:2 (Spring 2010) p. 33
Many Christians travel to Megiddo and walk to the 15-acre (6 hectare) summit because of its eschatological significance. There they look at the excavated buildings, walls, water and gate system and then move to the north edge of the mound where they have a magnificent view of the valley, or more correctly, plain, which spreads out before them known as the "Jezreel" in the OT and "Esdraelon" in NT times (Esdraelon being the Greek modification of Jezreel). The plain separates the Galilean hills in the north from Mounts Carmel and Gilboa to the south. The immensity of the plain is so astonishing that when Napoleon Bonaparte first viewed it, he was reported to have said: "All the armies of the world could maneuver their forces on this vast plain...There is no place in the whole world more suited for war that this... [It is] the most natural battleground of the whole earth" (Cline 2002: 142).
1.2 mi (2 km) southeast of Megiddo is the entrance to the Wadi 'Ara, a narrow north-south pass through the Carmel Mountain ridge. The south end of the Wadi 'Ara exits onto the Sharon Plain and the Mediterranean coast; the north opens to the Jezreel Plain. The international highway traversed this pass and carried traders and armies from Asia, Europe and Africa. Megiddo's strategic importance lay in one's ability to use its nearby hill to monitor such traffic.
In addition to its strategic location, M...

visitor : : uid: ()