The Map Of Macaba -- By: Gary A. Byers
Journal: Bible and Spade (Second Run)
Volume: BSPADE 26:3 (Summer 2013)
Article: The Map Of Macaba
Author: Gary A. Byers
---
BSpade 26:3 (Summer 2013) p. 68
The Map Of Macaba
Madaba Of The Map
The floor of the modern Greek Orthodox Church of Saint George in Madaba, Jordan contains the world's oldest extant cartographic depiction of Jerusalem and the Holy Land (sixth century AD). Created by unknown artists, the map was likely on the floor of Madaba's cathedral—the seat of Madaba's bishop, Gaiano. From the fourth–seventh centuries AD, Madaba was a flourishing city with many churches, of which the ruins of five have been uncovered.
In the fourth century AD, after generations of suppression, proclamation of the Christian message became acceptable. Known today as the Byzantine Period, it ushered in a new wave of biblical faith and devotion widely expressed in art and architecture. In the Holy Land it was demonstrated by a proliferation of new churches filled with artistry commemorating biblical people, places and events.
While mosaic inscriptions and floors were regular features in these Byzantine churches, Madaba's mosaic map was unique. Presumably, it was located between the altar and priest on the east and the standing congregation on the west.
Michael Luddeni
The Madaba Map on the floor of the modern Greek Orthodox Church of Saint George in Madaba, Jordan.
BSpade 26:3 (Summer 2013) p. 69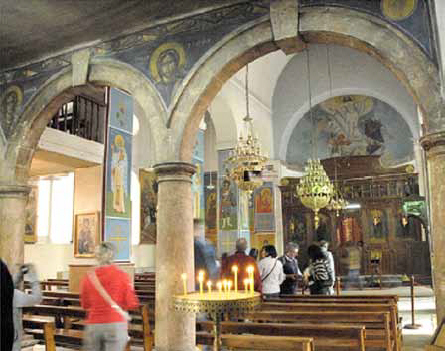 Michael Luddeni
Exterior and interior of the modern Church of Saint George in Madaba, Jordan.
The map depicts numerous places destroyed during the Persian invasion of 614, indicating its creation prior to then. Jerusalem's Nea Church, dedicated on November 20, 542, is pictured— meaning the map was after that time. Most likely created at the end of the reign of Justinian I (The Great: 527–565 AD), it would have been included in a list of impressive structures constructed during his reign: Jerusalem's Nea Ekklesia ("New Church"), Constantinople's Hagia Sophia, and the rebuilding of Bethlehem's Church of the Nativity.
While the city of Madaba, itself, was also taken in the 614 Persian invasion, it surrendered and was not destroyed. But things changed and the city's fortunes began to wane. The church appeared to still be in use during the eighth century, probably when figural motifs on the map were "adjusted."
The city continued for centuries until severe decline occurred during the Middle Ages. Under Ottoman Turkish rule Madaba's churches apparently fell into disuse, and this once-...

visitor : : uid: ()