The Coins Of Maqatir -- By: Donald McNeeley
Journal: Bible and Spade (Second Run)
Volume: BSPADE 28:4 (Fall 2015)
Article: The Coins Of Maqatir
Author: Donald McNeeley
---
BSpade 28:4 (Fall 2015) p. 106
The Coins Of Maqatir
Khirbet el-Maqatir has four occupational phases as established by archaeological evidence: an Amorite Bronze Age fortress, an Israelite occupation from the Iron Age I (IA I), a small city from the NT Hellenistic/ Roman time, and a Byzantine phase as attested by the monastery. First occupied near the end of the Middle Bronze III period (1600–1485 BC), Khirbet el- Maqatir was sporadically occupied until the Byzantine Period (AD 320–636). Numismatic evidence assists in defining occupational periods from the Persian Period (539–332 BC) through the Byzantine Period (AD 320–636).
While pottery remains the most used means to establish chronological understanding of a specific site, "coins are among the most helpful archaeological articles for dating purposes when recovered in legible condition."1
Khirbet el-Maqatir has been blessed with an abundance of coins. This became abundantly clear after 2011, when the Antiquities Authority changed its policy to allow metal detectors on site. This policy change led to the addition of Metal Detectorist Ellen Jackson to the team, which has dramatically increased the number of coins excavated each year. However, just like pottery, it is essential to realize that there is an "important limitation on the use of numismatic (coin) evidence…we do not know precisely how long coins stayed in circulation."2 As stated in the Holman Bible Handbook, "The presence of coins at a site can aid in the dating of the particular strata in which they are found. The layer or stratum cannot be dated to an earlier time than the date of the coin found in it."3 But, a date is not the only retrievable data from a coin. Coins can provide information on cultural aspects of the society that minted the coin. Political, religious and social concepts all have been worthy of being stamped on coins around the world. Sometimes, images of the current king or ruler are engraved on the coin, as well as wives and other prominent people of the time. Because of these images on the coins, if the
Michael Luddeni
Ellen Jackson, Metal Detectorist for the Khirbet el-Maqatir excavation.
BSpade 28:4 (Fall 2015) p. 107
Coin Distribution at Khirbet el-Maqatir
(as of the 2014 Season)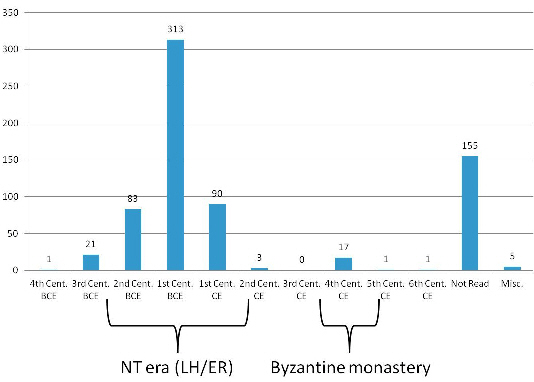 coin is from the Roman occupation in the first century AD and is found in good condition, a...

visitor : : uid: ()