What are the Biblical Roles of Female and Male Followers of Christ? -- By: Aída Besançon Spencer
Journal: Priscilla Papers
Volume: PP 18:2 (Spring 2004)
Article: What are the Biblical Roles of Female and Male Followers of Christ?
Author: Aída Besançon Spencer
---
PP 18:2 (Spring 2004) p. 11
What are the Biblical Roles of Female
and Male Followers of Christ?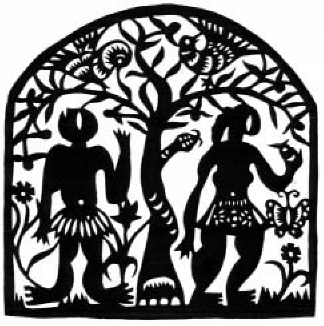 This papercut titled "Adam and Eve" by He Qi is used with permission from the artist.
October 14, 2003, marked the 30th anniversary of my ordination as a minister or teaching elder in the Presbyterian church. Before I was ordained, I researched 1 Timothy 2:11-15 and eventually had my revised research published in the Journal of the Evangelical Theological Society (Fall, 1974) and as a chapter in Beyond the Curse: Women Called to Ministry (1985). Since that time, scholarly research has progressed to the point that today complementarians agree that to learn in silence is a positive virtue for all Christians (1 Tim. 2:11),1 women as well as men can pray and prophesy publicly,2 men and women are made equally in God's image,3 women are not submissive to all men,4 in Ephesus women were in some way promulgating the heresy, Adam was with Eve during the temptation,5 and Paul used an analogy between Eve and the women at Ephesus.6
Nevertheless, Christians are still divided over the roles men and women should have in the church. They are even divided over the place of roles in one's life. As a sociology major in college, I spent a year in two introductory classes defining terms such as roles and, ironically, now it seems roles have come to define us.
Some people think identity is tied up with one's role. Therefore, if roles are reversed, identity is lost. Consequently, if women were to teach authoritatively, they would lose their identity as women. Or, if men were to stay at home and take care of children, they would lose their identity as men. But, roles do not create identity. You are who you are no matter what you do, within your physical capacity. Men cannot bear children. Many women can. Yet a woman who could not bear children would still be a woman. Our human identity comes not from our roles but from our creation and re-creation by God. For example, God created me a woman. Whatever I do as a mature godly woman will not cause, validate, or erase my identity. Women and men are called by God to be royal priests, God's own people (1 Pet. 2:9). Whether we teach toddlers in the nursery or adults in a seminary, we remain God's royal priests, God's people...

visitor : : uid: ()